The Basic Law Library is a joint project of the Leisure and Cultural Services Department and the Basic Law Institute. The Library was opened on 20 December 2004 and is managed by the Hong Kong Public Libraries, Leisure and Cultural Services Department.
The Basic Law Library located at the 5/F of City Hall Public Library has an area of about 210m2. It is basically a reference library aiming to serve the general public. Legal professionals, schools and organisations are also welcome.
Seats are provided in the Library. Internet and online database workstations, CD-ROM workstation, Multimedia Information System workstation, Library Catalogue terminal and GovWiFi service for internet access are available for public access.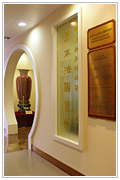 Resources
The library stock includes the Basic Law Collection originally housed in the Hong Kong Central Library, as well as about 7,500 items of reference materials acquired by the Basic Law Institute in three years with a grant from the Hong Kong Jockey Club.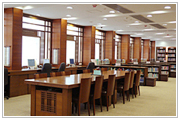 The Basic Law Library stocks materials such as books, journals, multimedia information, CD-ROMs, online databases and newspaper clippings. It now has a collection of about 17,600 items of reference materials covering the following subjects:
Publications relating to constitutional law, administrative law, human rights and civic rights
Materials on the Basic Law of HKSAR issued by the Government, professional bodies, academic institutions and community organisations, etc.
Documents and newspaper clippings relating to the drafting and implementation of the Basic Law
Records of court judgments relating to the Basic Law
Readers can make use of the collection for better understanding and research on the Basic Law of the HKSAR and related subjects.
Online Catalogue
Members of public are welcome to search the Library's Online Public Access Catalogue for any specific titles and relevant topics.
Location & Opening Hours
The Basic Law Library is located at:
City Hall Public Library
5/F, City Hall High Block, Central,
Hong Kong.
Tel.: (852) 2921 2529
Opening Hours:
Monday to Wednesday, Friday to Saturday
9:00 a.m. - 8:00 p.m.
Thursday
12:00 noon - 8:00 p.m.
Sunday and Public Holidays
9:00 a.m. - 5:00 p.m.
(The Library closes on New Year's Day, Chinese New Year's Day and the following 2 days, Good Friday, Christmas Day and the following day. The Library is closed at 5:00 p.m. on New Year's Eve, Chinese New Year's Eve, Mid-Autumn Festival and Christmas Eve)
Searching of Basic Law Collection
Please click here for searching Basic Law collection.